Get More Blog Traffic & Leads on Autopilot with Blog Engage
Are you tired of blogging to your cat? Would you like more people to see what you have to say and offer?
On one thing ALL experienced bloggers will agree… you have to get your blog seen if you want to get more leads that create for you, more profit!
It's called 'syndication' and it's something that journalists have done for decades. A column printed in one newspaper is copied and printed in another and another and another. A really good or topical article via this process of syndication can reach millions of readers, very rapidly.
Blogging is no different, if you want to be read you have to be seen. And if you want to be seen syndicating is one of the most powerful ways to promote your blog on the web.
Enter stage left, BlogEngage.com
Blog Engage, established in 2008,  is a highly reputable member driven website with a large user base and an even larger reach.  As you would expect and hope, Blog Engage will not accept spammy posts, so the quality of the content from the very outset should be good. However, since all the content is peer reviewed, by the other members, you have a strong guarantee of quality right there and instant feedback on the quality of your own work too!
Blog Engage is Fun
Led by its founder Brian Belfitt, depending on the package your subscribe too, there are competitions and opportunities to be a 'featured spotlight blogger' grabbing for yourself even more valuable peer attention.
Blog Engage Creates Backlinks and Takes the Strain on Social Media Marketing
Blog Engage puts your blog syndication on autopilot. On all but the most basic package, your blog is taken via your RSS feed and then Blog Engage does the rest. Your articles are automatically sent to the 'upcoming page' where other Blog Engage users can read and vote on the blogs they like the most. The more popular your blog, the quicker it gets promoted to full publication and can be located on the Blog Engage home page.
Blog Engage Covers Every Possible Niche
I began this article by suggesting that Blog Engage was good for not just creating traffic, but for getting leads from that traffic too. Well of course, not every blog is concerned with just that. As an internet marketer that happens to be the broad niche I cover on this site, but I'm also a Life Coach and that's a quite distinctive niche that's also embraced by Blog Engage.
In fact there is a huge and diverse variety of blogs out there and Blog Engage covers them all, from Network Marketing (of the non-spammy variety!) to cosmetics, art, hobbies, celebrity, news, science, personal growth, spirituality and so on and so on!
Blog Engage Appears to Have Thought of Everything!
They even include the option to have your own Google Adsense account monetizing your blog posts on there! On the higher end packages, social media marketing is more intensive and you can set up multiple RSS feeds. For example you might have one for your blog, another for your podcasts and another just for press releases.
Final Thoughts on Blog Engage
Really, the best way to fully appreciate what Blog Engage and what I highly encourage you to do, is to go and check it out for yourself!
Click on the banner right here and then please, pop back and leave me your comments about what you think of it below.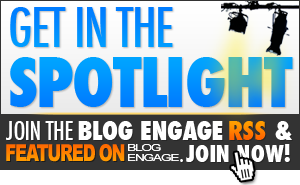 Full disclosure: It's only right and proper that I should mention that this is an affiliate link. However, in all seriousness I do NOT promote just anything that comes along. I have given serious thought and always do, to the services I promote and I am entirely comfortable recommending and promoting Blog Engage to you, irrespective of whether or not I earn anything from it. My reputation has a value too. I would NOT recommend something that I believed to be of poor to no value to you, me or anyone else.
Remember, if you want change in your life….
The change begins with YOU!
Robin J Emdon
Life Coach & AttractionMarketing Professional
Skype: lifemaestro
Email: [email protected]
Read Me: https://robinjemdon.com
Follow Me: http://twitter.com/robinjemdon
Facebook LIKE Me: http://fbRobin.com
Hire Me: [email protected]
Work With Me: http://wp.me/P1Xz44-Z
The following two tabs change content below.
Robin J Emdon
Life Coach, Professional Online Marketer & Coffee Snob
Online Marketer - Entrepreneur - Bad Joke Teller - Life Coach - Interweb Addict - Single Dad - Retired Retail Stores Owner - Honest to a fault - Dream Builder - Straight Talking - Works From Home - Student of Philosophy and Psychology - Passionate About Life - All Round Good Guy & Cappuccino Lover.
Latest posts by Robin J Emdon (see all)